Ame ni mo makezu
Kaze ni mo makezu
Yuki ni mo natsu no atsusa ni mo makenu
Jōbu na karada wo mochi
Yoku wa naku
Kesshite ikarazu
Itsu mo shizuka ni waratte iru
I was in Iwate prefecture in northern part of Japanese Honshu island spending two nights in Shiwa with a family that wanted to take part in cultural exchange program. It was this place where I found the true spirit of Japan.
The father of the family was curious and eager to host me and my Japanese friend, who I was thankful for because without him we couldn't speak a word. I spoke almost no Japanese and the father didn't speak English. But he would do anything for us. We were supposed to help him and get to know his business with grapes, because it was an agricultural workcamp. But he took us on a trip instead. We went to see a popular honey shop in the mountains, went to take a bath in beautiful hot springs and then he said he'll take us for lunch to get the best udon noodles in Japan.
I thought it might be hard for me to decide if it was the best udon noodles because I didn't know how they should really taste. It was a small restaurant filled with locals. You've ordered, got your food and once you were done you wrote down what you had on a prepared receipt and went to pay before leaving. I was blown away. The meal itself was pretty simple, no fancy additions but it was really tasty. My Japanese friend said it really was the best udon noodles he ever had.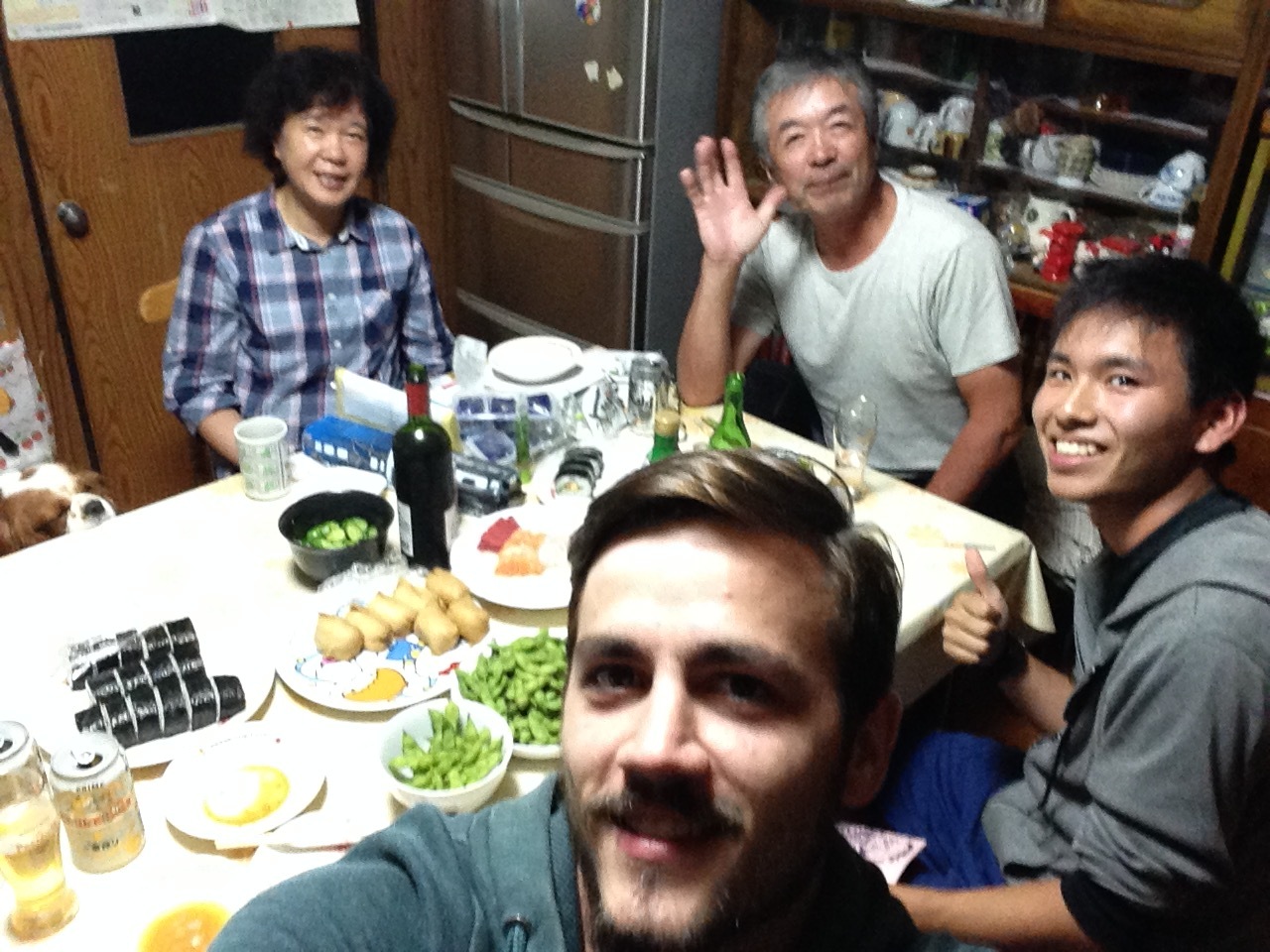 The father then took us to Hiraizumi. It was a cloudy day with light rain and we strolled through sequoia forest to see the Chūson-ji temple. One of the main temples in Tohoku region. It was a great trip, but the biggest surprise was awaiting me in a city called Hanamaki.
Hanamaki was a birthplace to one specific man and they built a museum in his honor. I didn't know this man before but he played essential role in my understanding of Japanese mindset. His name was Miyazawa Kenji and he was a man of many talents. But this story isn't about his interest in agriculture, or geology, or paintings, or him being a teacher, even though one might object that he became an ultimate teacher for the whole country. This story is about his poetry. Actually, just one of his poems and you've already read first few lines of what is called Ame ni mo makezu, Strong in the rain in English.
I got my ticket and entered the museum. It was dim inside, filled with different exhibits but the first thing I've noticed was this computer on a pedestal with some sort of video running on repeat. I put on the headphones and watched the video. It was a reading of the mentioned poem. You could listen to it in Japanese or English and I remember standing there and being moved by those words. Words about staying strong even when the weather doesn't treat you well. Staying humble, eating a bowl of rice a day, helping other people, not wanting to be praised. It encapsulated the whole culture I was seeing every day and that's what felt so special about it. Miyazawa Kenji managed to take every aspect of Japanese approach to life and put it in one poem.
Ame ni mo makezu is taught in schools as well. I met a principal in one of the schools and when I mentioned the poem he recited the whole thing word by word. It is deeply rooted in Japanese minds. Because what else can they do than stay strong in the rain, strong in the wind? I've spent three months in Japan and in that period, I experienced numerous earthquakes, there were three typhoons at the same time by the east coast, a volcano exploded somewhere in the south and there was a tsunami warning just before we left because of the massive earthquake on the other side of the Pacific in Chile.
I lived in Rikuzentakata where 10% of the population died because of the earthquakes and tsunami in 2011 and still… Those people invited us with love and generosity. They smiled, ate a bowl of rice a day, helped each other, stayed humble. Because Japanese don't want to fight nature, they are one with it. They accept it. And maybe that's why they are the way they are. Why they bow. Because they carry this deep respect for life.
Oh, and one last thing. Miyazawa Kenji never published that poem. They found it later in a small black notebook after he died.